Acta Universitatis Danubius. Relationes Internationales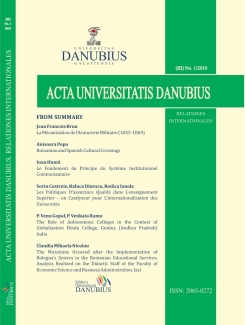 Frequency: 2 issues per year (July, 15th December)
Print ISSN: 2065-0272
Online ISSN: 2344-1348
The general theme of the journal refers to the political sciences of international relations.
The journal has an editorial board composed of prestigious personalities in the national and international field considering the standards of publishing scientific journals: the frequency, international editorial conventions (abstracts, bibliographic information, etc..) and keywords in English.
Based on a complex and modern approach, the journal can be found in field studies and articles on different lines of analysis noted: paradigms of international relations, European studies, interculturalism, migration, Diaspora and international relations, the internationalization of education, diplomacy, global issues of mankind.
Since its first issue, the journal intends to be a debating court for promoting the spread of ideas and for widening the scientific dialogue critically examining various aspects of international reality and meeting the need for collaborative research in international relations.
Acta Universitatis Danubius. Relationes Internationales is included in the following international databases (BDI): CEEOL; EBSCO Publishing; Cabell's; DOAJ; Proquest; Ulrich's Periodicals Directory.
Announcements
Dear Collaborators,
Starting with the 1st of September 2019, it will be applied a fee for publishing your article into our journal. The fee for publishing in our journal is 50 USD / 45 EURO / 200 LEI.
The PhD students will have a discount of 50%, the fee for them being of 25 USD/100 LEI.
The details regarding the payment will be sent when the article is accepted for publishing. All the articles submitted by 1st of September 2019 shall be published in the order of the issues without paying any fee.
We appreciate your contribution to the quality of the work that we publish.
Posted: 2019-10-16
Vol 12, No 2 (2019)
Table of Contents
International Relations