The Journal of Accounting and Management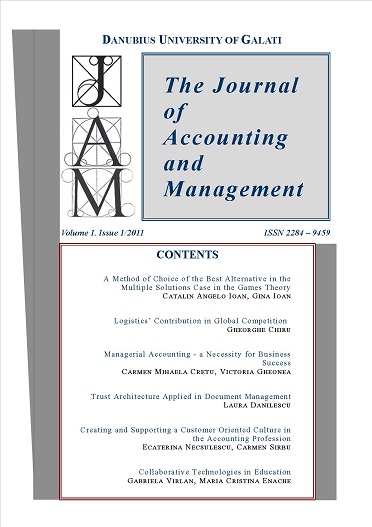 Frequency: 3 issues per year (April, August, December)
Print ISSN: 2284 – 9459
On-line ISSN: 2392 – 8778
JAM is the newest scientific journal published by Danubius University of Galati. The area of research covers accounting and management articles but also interdisciplinary working papers as well empirical studies and case studies. The articles are accepted for publishing after a rigorous peer review process. The reviewers are internationally well respected teachers and researchers.
Announcements
The 1st 2016 JAM issue is now available online. Enjoy it!
Posted: 2016-06-03
The 3rd 2012 issue was published. Thank you all for your contribution.
Posted: 2013-01-20
Vol 7, No 1 (2017): JAM
Table of Contents
Articles