Acta Universitatis Danubius. Œconomica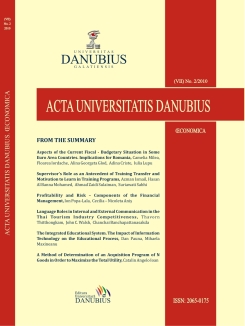 Recognized by CNCSIS B+ Category
Frequency: 6 issues per year (28 February, 30 April, 30 June, 30 August, 30 October, 15 December)
Print ISSN: 2065-0175
Online ISSN: 2067 – 340X
The Faculty of Economic Sciences of the "Danubius" University from Galaţi, Romania, has started publishing a scientific review: Acta Universitatis Danubius. Œconomica, since 2005, in English and French language, that is distributed both nationally and internationally and its main domain of study is economics. The theme of the review is very diverse. The scientific published articles encompass economic areas, from general economic theory, business administration, commerce, economic analysis, international economic relations to economic mathematics and informatics and history of economics. The review presents theoretical studies from all fields of economic activity, combining theoretical approaches with the presentation of practical cases, providing well documented answers to a wide range of issues encountered in the economic environment. The review represents the theoretical and empirical studies in economic areas and it is written by authors that are mainly from the academic world, but also researchers, master's students, managers, entrepreneurs, business people, etc.
Acta Universitatis Danubius. Œconomica Journal is included in the following international databases and catalogues: CEEOL; EBSCO Publishing; EconPapers; RePec; IDEAS; DOAJ; Cabell's; Proquest.
Announcements
Dear Collaborator,
Starting with the 1st of July 2019, it will be applied a fee for publishing your article into our journal.
The fee for publishing in our journal is 70 USD / 63 EURO / 300 LEI.
The PhD students will have a discount of 50%, the fee for them being of 35 USD/150 LEI.
The details regarding the payment will be sent when the article is accepted for publishing.
All the articles submitted by 1st of June 2019 shall be published in the order of the issues without paying any fee.
We appreciate your contribution to the quality of the work that we publish.
Posted: 2019-06-04
Vol 16, No 3 (2020)
Table of Contents
Business Administration and Business Economics
Financial Economics
Macroeconomics and Monetary Economics