Acta Universitatis Danubius. Juridica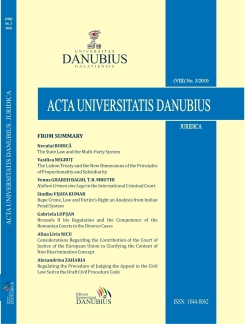 Frequency: 3 issues per year (31 March, 31 August, 30 November)
Print ISSN: 1844-8062
Online ISSN: 2065-3891
The review Acta Universitatis Danubius. Juridica published in 2005 with the help of the Law Faculty of Danubius University of Galati, has the mission to distribute, in the academic national and international environment, the results of scientific research of our teacher staff and collaborators by publishing studies of high theoretical and applied performance.
In its pages, we will encounter famous, national and foreign authors, but also young researchers engaged in legal knowledge and creation.

The journal intends to be a debating court for promoting the spread of ideas and for widening the dialogue in a European scientific spirit. The thematic studies will encompass legal doctrine, jurisprudence, philosophy and law, the debates, the notable results of scientific investigations or the reviews to genuine theoretical successes.

Acta Universitatis Danubius. Juridica Journal is included in these international databases and catalogues: CEEOL; EBSCO Publishing; HEINONLINE; VLEX; DOAJ; Proquest.
Announcements
No announcements have been published.
Vol 16, No 1 (2020)
Table of Contents
Studies and Articles