Journal of Danubian Studies and Research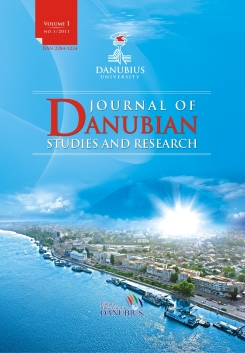 Frequency: 2 issues per year (October)
Print ISSN: 2284 – 5224
Online ISSN: 2392 – 8050
The Journal of Danubian Studies and Research is a trilingual publication (English, French and Russian) of the Danubian Studies and Research Center; it represents a scientific debate on the broad issue of the Danubian context. Although it seems circumscribed to the local area, the journal opens towards cultural studies, Europeism and cross-border realities, having as objective the reconstruction of an area of excellence in a significant part of Europe - the Danube Basin, with all that it implies in a high intellectual academic approach. Through the collaboration of universities in Republic of Moldova and Ukraine there are created the premises for opening towards other institutions of higher education in Central and SE Europe. We aim at having a Danubian community focused on a well defined problematic, thus creating a high quality scientific publication.
Journal of Danubian Studies and Research is included in the following international databases (BDI): DOAJ; Proquest, EBSCO Publishing.




Announcements
The 2 issues of 2017 are dedicated to the 7th International Conference The Danube - Axis of European Identity, organised by Danubius University of Galati, Romania, Cahul State University "B.P.Hasdeu", Republic of Moldova, Izmail State Liberal Arts University, Ukraine, University of Ruse "Angel Kanchev", Bulgaria, EDUCONS University, Serbia, hosted by Danubius University of Galati, Romania.
Posted: 2017-10-10
Vol 9, No 2 (2019)
Table of Contents
Danubian Economy and Legislation
| | |
| --- | --- |
| Socio-economic System Evaluation of Ukrainian Black Sea | PDF HTML |
| Kateryna Glubochenko, Liudmyla Nazarova, Tatiana Porudeyeva | |