Danubius Journals
Danubius Journals is a division of Danubius University Press, which is a department of Danubius University. We publish academic and research journals covering a broad range of subject areas.
Our mission, as part of the University, is to bring the highest quality research to the widest possible audience. We endeavour to provide our authors with an excellent level of service, including licences which allow their research to be as widely disseminated as possible.
Our journals are great value as well as high quality.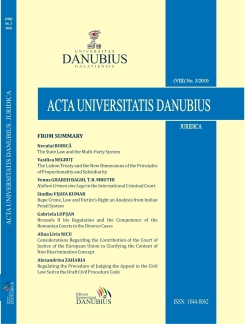 Acta Universitatis Danubius. Juridica
Frequency: 3 issues per year (31 March, 31 August, 30 November)
Print ISSN: 1844-8062
Online ISSN: 2065-3891

Parse error: syntax error, unexpected end of file, expecting ')' in /var/sites/ojs/www/cache/fc-journalSettings-1.php on line 388