Acta Universitatis Danubius. Communicatio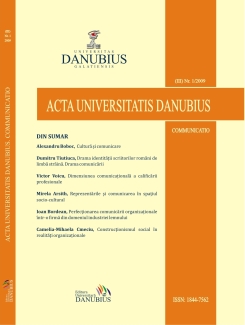 Frequency: 2 issues per year (June, December)
Print ISSN: 1844-7562
Online ISSN: 2069 – 0398
The Review of Communication Sciences Faculty within the "Danubius" University of Galati, Acta Universitatis Danubius. Communicatio aims at popularizing, at the level of national and international academic community, the scientific research of our academic staff but also of other universities. With its special sections dedicated to communication such as: public relations, journalism and advertising, sociology, psychology, philology, philosophy, etc. the review fulfills its mission of being a tribune of ideas of communication sciences, whose inter-and trans-disciplinary feature is well understood. Through a rigorous selection of the published articles and by including a significant number of collaborators, our publication, although at its first issues, aims at becoming a reference in the field.
Acta Universitatis Danubius. Communicatio is included in the following international databases (BDI): CEEOL; EBSCO Publishing; Cabell's; DOAJ; Proquest; Ulrich's Periodicals Directory.
Announcements
No announcements have been published.
Vol 14, No 1 (2020)
Table of Contents
Articles
Social Media